News & Events
Winter Carnival Cum Fete 2017
Leeds International's Annual Fete was a wonderful day filled with much laughter, fun and community–spirit building activities. Fete – cum – "CHRISTMAS-DAY" was celebrated on 23rd December 2017 (Saturday). The Fete committee and teachers, parents/student body, worked tirelessly to prepare for the day. The rides, carols, games, delicious food area, dancing and live entertainment were all extremely successful. What a wonderful day it was!
Christmas was celebrated in grand manner at 11:30 am. The function was presided by Hon'ble Chairman , Mr. Rameshwar Singh. "The Birth of Jesus" had been shown by the young minds of school. At the end of the programme Santa Clause arrived and filled the entire crowd with joy and danced with everyone with great enthusiasm. Cakes were distributed to everyone.
The Food – Stalls were opened at 1:00 pm. More than 4,000 people visited the school's Fete and enjoyed mouth watering tasty – foods made by students.
Children of different classes were busy on different stalls to serve the products. Also, there was one stall for "Art & Craft".
The success of this year's Fete is credited to many, however, worth Principal Sir, "Dr. Bijay Kumar Sahu" who was fundamentally behind its success.
All the children, audiences were enjoying to the beats of "JINGLE BELLS".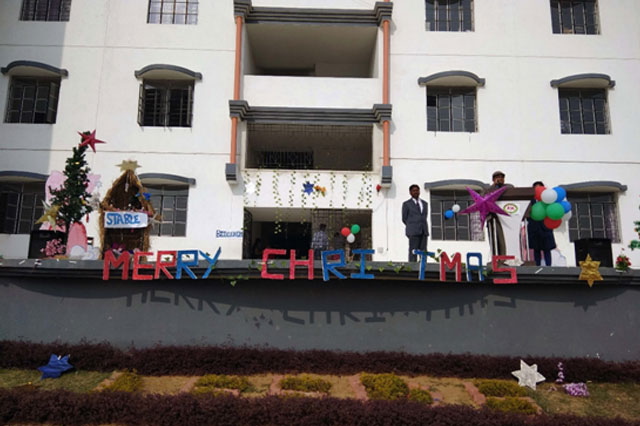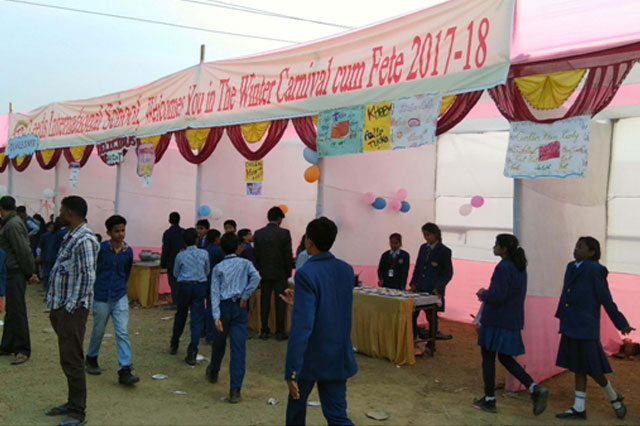 Summer Vacation
Leeds International School, Parsa, Patna organized a 7 days Summer Camp from 16.05.17 to 23.05.17. More than 200 students from different schools participated in it. The various dynamic activities like Music, Dance, Indoor Games Football, Basketball, Dramatics, Arts world, Computer & Information Technology and swimming left students to have dive into world of joy, fun & learning. All the events were guided and supervised by different experts. Even the scorching heat could not stop students' zeal to learn and groom their hobby. They enjoyed the camp and got refreshed with sweet memories. On the last day. 23.05.17, students of each group presented their groomed skills. There was a Bharatnatyam dance, classical song, art exhibition, computer game making, basketball & football match and rain dance. Students were having smiles and feeling of gratitude for the school for providing them such platforms. All the students got a certificate of Appreciation. At last, the Principal, Mr Bijay Kumar Sahu thanked the trainers and motivated the students to acquire all skills and be an all rounder to be able to face all challenges with success. Thereafter students went on their vacation with smiles on their faces.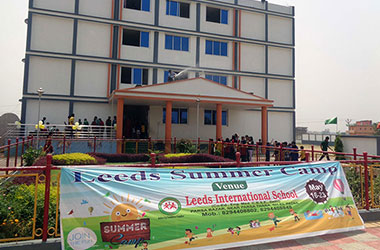 Rakhi
The students of Leeds International School, Parsa, Patna found a wonderful way to thank the Police Personnels for their services to our society. Students made Rakhis using decorative materials, cotton and Resham threads, etc. A group of girls from class III to VIII along with Rakhis, sweets and diyas reached Gandhi Maidan Police Station, Kargil Chowk, Kotwali Police Station, Parsa Police Station, Punpun Police Station and other local Police Stations on 04-08-2017 at 11 am. They tied Rakhis on the wrists of Police Personnels and thanked them for being so dutiful. The Police were very happy by this cute gesture and blessed the students with sweets, chocolates and gifts. They highly appreciated the efforts of the students and the school and expected that such activities are conducted regularly which will bind them closer with the society.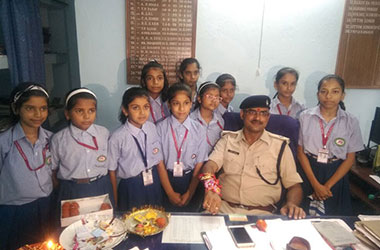 Independence Day
The 71st Independence Day was celebrated with great pomp & show at Leeds International School, Parsa, Patna. The Indian flag was hoisted by the Chairman Mr. Rameshwar Singh. Students presented magnificent march past and many patriotic songs & dance. They also presented a skit showing how the Freedom fighters have contributed in shaping India. The Chairman encouraged students to follow their duties as well. The Principal, Mr. Bijay Kumar Sahu, motivated students to be a responsible citizen. At last vote of thanks was delivered by the Vice Principal. Parents & students enjoyed sweets besides the programmes.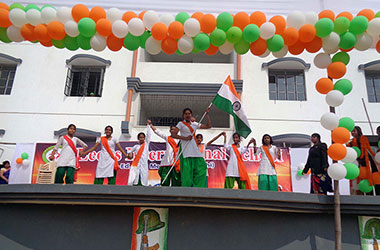 Annual Day
"Annual Day" has been celebrated on 2nd Dec. 2017. Saturday, in the campus of "Leeds International School", Parsa, Patna. Really the day has became very special for the school as programme was titled… "(Aashayein)".
The programme started at 2:00 pm. It was blessed by the chief guest "Smt. Sita Sahu", Mayor Patna and guests of honour Dr. Ravindra Kr. Sinha, Vice Chancellor, Nalanda Open University and Dr. Jainendra Kr., Principal, College of Commerce, Patna It was highly appreciable that each student of the school was on the stage. The school – team felt honoured to unleash the true spirit of the students. The students have presented a set of programme i.e.bhangda, theme dance, ghoomar & many other dances, songs, skits and mimes etc. & showed how only "hope" gives us everything in our life to live well.
The amazing performances in perfect attires, by the young minds left the audiences totally enraptured. The Chairman, Mr. Rameshwar Singh and Secretary, Mrs. Pushpa Sinha blessed the students with their motivational speech. The Principal Dr. Bijay Kr. Sahu ensured that Leeds will leave no store unturned to make its students a successful global citizen.
Really parents were highly honoured and graced, seeing the all round grooming of their wards.
At last students danced on the theme hope with candles lighted by all.
The programme ended with vote of thanks proposed by the Vice Principal Ms Preeti Tanwar.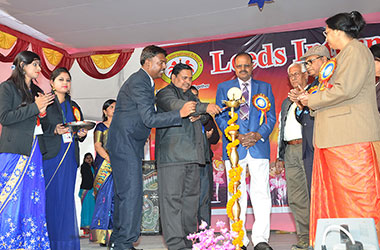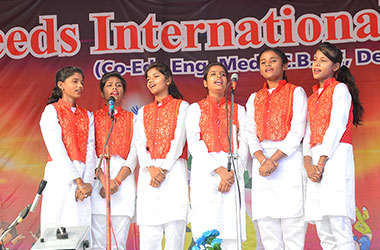 Workshop conducted by Mr Saurabh Kaushal a space scientist & researcher from NASA
Wednesday, 26th April, 2017 has been a memorable day for students of Leeds International School, Parsa, Patna. They got an opportunity to dive deeper into the ocean of knowledge by attending the workshop conducted by Mr Saurabh Kaushal a space scientist & researcher from NASA and a recipient of Karamveer Award by Govt. of India. He showed students how are easy way they can do all activities of science. He also demonstrated elements of Robotics. Students learnt a lot and paid gratitude the mentor.
Fresher's Day
Joining a new school or being promoted to a new class is always a source of excitement for students. To make this feel a special one, a Fresher's Day has been organized in the school on 11.04.17 for the pre-primary students. All their classes and the auditorium were decorated with colourful balloons. Students came in vibrant apparels.
The Chairman, Mr Rameshwar Singh & the Secretary, Ms Pushpa Sinha blessed the students. The Principal, Mr. Bijay Kumar Sahu, addressed the cute kids and informed them the purpose of celebrating the Fresher's Day. He gave a warm welcome to all. Thereafter the cake cutting ceremony was held.
Students danced on different rocking numbers. They played with their friends and teachers. They had combined snacks. With glowing faces & new spirit they got ready for the new session. The Vice Principal, Ms Preeti Tanwar, congratulated and motivated students for their new journey. The teachers, Ms Shweta, Ms Anamika Cyril, Ms Anamika Jha, Ms Bhumika, Ms Dipanjali & Ms Shilpa gave their full cooperation in making this event a grand success.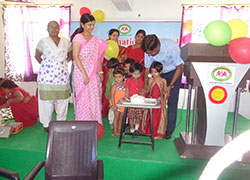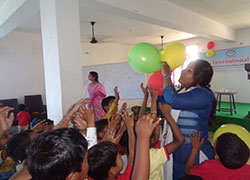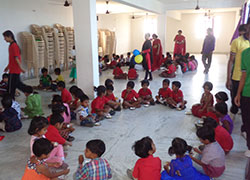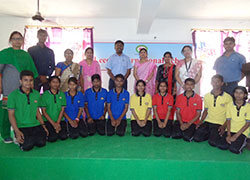 House Making Activity
As per the schedule the House Making Activity has been organized on 14.04.17. The students of Play to UKG were notified to bring the necessary articles.
Students made houses of different sizes & shapes. They coloured the houses with decorating papers.
They cut the boxes to shape door & windows for the house. With the support of teachers every student participated actively in it.
As a sweet gift to their parents they carried their handmade houses to their homes. The participation & support of parents deserves gratitude.